Evidence of a delicious cob of corn, and a motor error.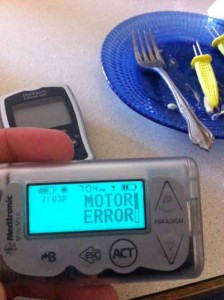 To be fair, this pump was snatched out of my hand last night when the infusion tubing snagged on a moving ceiling fan, was whipped around at high speed and thrown violently into the closet.  I would bet that nobody in the quality department at Medtronic envisioned that scenario…
Don't ask.  It's a ridiculous story involving my daughter teasing me for having insane armpit hair and my wife making me raise my arms into the air so she could see for herself.  I've already said too much, and I hope my friends still like me after reading this.
The impact onto the carpeted floor didn't sound too bad, and the pump didn't complain about anything when I asked it to run a self-test (a cool feature, even if just for peace of mind).
I didn't have any crazy highs or lows last night or today, which might be a signal that something is wrong somewhere.  No sign of trouble until I bolused for my corn.
My first thought was, "no way… me too?" (in reference to Wil Dubois).  My second thought was, "how much insulin got delivered before the alarm?"
I called the helpline and they walked me through a test of the pump, which passed with flying colors.  They also asked me to reload the pump with a new reservoir and infusion set, which I did because I can see the logic of it (if there is something causing unusual pressure against the pushrod, it could cause a motor error).
They walked me through the pump history to help me see how much of my bolus was delivered before the alarm.  It was nice to be able to drill into the history to see the details of the bolus program and delivery.
I've been on this pump for just over a week now, and I'm busy gathering thoughts to share with you.  I had my CGM training this morning, so this is the first day with the sensor component.
It's much too early to draw any real conclusions, but I'm working on a post (in my brain) where I'll tell you how this CGM system makes me feel fat.
I also have a TON of other stuff to talk about (my 100-mile bike ride and the Lilly summit) and am hoping to get some of that out real soon too.